Recorded for Columbia on February 2, 1946.

Sang at Waldorf-Astoria's Wedgwood Room in 1945.
<<
Sinatra takes over the Wedgewood Room and, despite his illness, wins over the crowd
The quality of the laryngitis is tense those nights in the Wedgwood Room of the Waldorf-Astoria, where Frank Sinatra makes a belated start to a brief engagement.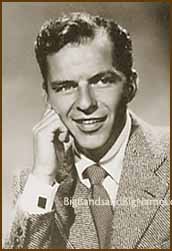 It's painfully obvious that he shouldn't be singing until he's properly rested, but he sang 14 numbers on Wednesday night, the closing "Old Man River."
Usually the lean technician of modern song phrasing is in his element with a big band behind him – wasn't he even the singer of a swing band? And Dick Stable's 22-piece band with numerous violins and a harp provides great support, but the voice that has mesmerized millions was like a butterfly in a whirlpool.
Still, it was a masterpiece. . .
*
After performing "My Romance" from the unforgettable "Jumbo" and "When I Marry Sweet Lorraine", he provided the first surprise of the evening with "Bess, Where Is My Bess". A haunting, beautiful melody, he understood it very well. >> f

rom Tips on Tables, by Robert W. Dana, Nov. 30, 1945.








similar posts
Happy 10th Anniversary of Todos Santos Writers Workshop!